Iowa's Tom Brands won title #2 of 3 as Oklahoma State's Pat Smith won title #2 of 4.


1991 Champion 118
Jeff Prescott of Penn State


A three time New York state champion from Olean High School, Prescott was 5th in the nation as a sophomore in 1990, winning back to back NCAA titles in 1991 and 1992. He later lead Jupiter Christian High school to a Florida state championship. Today he runs his own wrestling school out of Buffalo, New York.
1991 Champion 126
Jason Kelber of Nebraska
Kelber won three Iowa high school state titles for West Marshall before coming to Nebraska to wrestle for the Huskers. Taking 6th place All American honors in 1989, he was NCAA runner-up in 1990, avenging his finals loss Vs Terry Brands of Iowa to win the 1991 NCA A title. He later coached at both Nebraska and Indiana.
1991 Champion 142
Scott Collins of West Virginia
A match away from placing at the 1988 NCAA championships and not placing at the 1990 NCAA championships, Scott Collins made the most of his final season as a Mountaineer. Going 40-1 he won the NCAA title as a senior in 1991.
1991 Champion 150
Matt Demaray of Wisconsin
Although Matt Demaray had an outstanding high school career competing for Apple Valley High school, his career ended on a bit of a sour note. Making the state finals as an eighth grader, he then won three Minnesota state titles in a row. He was set to be a five time finalist and a four time champion, but he would be upset & have to settle for 3rd place. Motivated by the sting of missing out on his fifth finals appearance and fourth state title, after finishing in 7th place as a sophomore at the 1990 NCAA championships, Demaray won back to back NCAA titles for the Badgers in 1991 and 1992. Post college he won a silver medal at the World Cup in 1994 and got involved in private investments.
1991 Champion 167
Mark Reiland of Iowa
A two time state champion of Eagle Grove, Reiland placed fourth at the NCAA championships as a freshman in 1989. Injuries hampered him throughout his sophomore season, but he returned strong in 1991 to win the NCAA title as a junior. In 1992, he would finish one match shy of All American status. Post his collegiate career Reiland has had great success in coaching. Stints at Solon and Iowa City West, he has won team state titles, producing 22 state champions and 84 state place-winners.
1991 Champion 177
Marty Morgan of Minnesota
With hair on his head and not on his face, it's almost hard to believe that is Marty Morgan, but it is. The Kennedy high graduate first began his collegiate career at North Dakota State where he won an NCAA Division II title as a freshman in 1987. Redshirting in 1988, he placed 6th in the nation for the Golden Gophers in 1989 and NCAA runner up in 1990 before capping off his career as NCAA champion. He has been heavily involved with the Golden Gopher wrestling program ever since.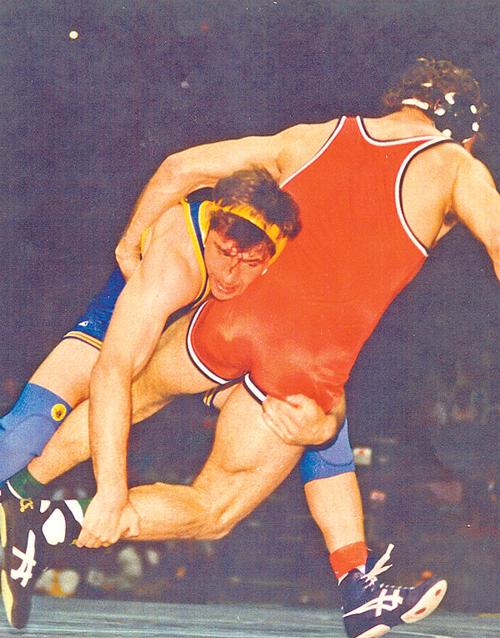 1991 Champion 190
Paul Keysaw of Cal State Bakersfield
Coming all the way to Bakersfield from Athens High school where he won a Pennsylvania state title, Keysaw was 8th in the nation as a junior in 1990 before capping off his Road-Runner career with the NCAA title in 1991. He has since coached at the community college level, having stints as Fresno City, Bakersfield College and Moorpark where he led the team to three CCCAA titles.
1991 Champion HWT
Jon Llewellyn of Illinois
Give a guy some iron to pump, show him a few techniques, mix that in with some good coaching and you'll be amazed what he can accomplish. The Hinsdale Central graduate only managed to qualify for the Illinois state championships once. He didn't place. Walking on to the Illini wrestling team, he soon became one of the Navy Blue and Orange's most valuable assets. A three time BIG 10 champion, Llewellyn was 3rd in both the 1989 and 1990 NCAA championships, winning the NCAA title as a senior in 1991.
====
Tom Brands and Pat Smith previously mentioned
Prescott and Demaray both repeated in 1992
Reiland would not repeat
Kelber, Collins, Morgan, Keysaw and Llewellyn all seniors