Dan St John of Arizona State and Chris Barnes of Oklahoma State both won their second titles to end their careers as two time champions.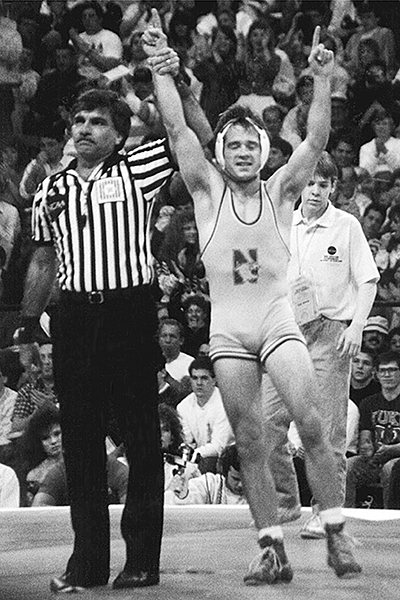 1990 Champion 118
Jack Griffin of Northwestern


A two time BIG 10 champion, Griffin was 5th at the 1989 NCAA championships as a junior winning NCAA title as a senior in 1990. He finished his wildcat career with a record of 156-21.
1990 Champion 126
Terry Brands of Iowa
Coming to Iowa from Sheldon High school, Terry and his twin brother Tom are often the first faces one imagines when thinking of the Hawkeye wrestling program. Competing for the Hawks, Brands won his first national title as a sophomore in 1990. He would then finish as the NCAA runner-up in 1991, reclaiming his throne in 1992. Overall he went 137-7 during his career. Post college he had a sensational showing internationally winning Pan-American gold in 1995, World Gold in 1993 and 1995 as well as Olympic Bronze in 2000. He coached at both Montana State Northern as well as UT-Chattanooga before becoming associate head coach alongside his brother at the University of Iowa where he remains today.
1990 Champion 134
Tom Brands of Iowa
4th as a freshman in 1989, Brands would go on to win three NCAA titles for the Hawkeyes in 1990, 1991 and 1992. Overall he put together a record of 158-7 for the Hawkeye. Winning World Gold in 1993, he won Pan-American gold in 1996 and Olympic Gold in 1996. Coaching at Virginia Tech for a short amount of time, he then took over as the head of the University of Iowa. In 12 of the 13 seasons (2020 did not have a post season) Brands has taken home a top 4 team trophy. Four of those trophies have been first place.
1990 Champion 142
Joe Reynolds of Oklahoma
A two time state champion from Moore High School, Reynolds was 8th in the nation as a junior in 1989 before capping off his senior campaign with the national title in 1990. He later became a defense attorney.
1990 Champion 150
Brian Dolph of Indiana
A two time BIG 10 champion, Dolph had 127 victories while competing for the Hoosiers. 8th in 1988 as a sophomore, Dolph was 3rd in 1989. He ended his collegiate career with a national title in 1990. He later coached at both Pennsylvania and Cleveland State.
1990 Champion 158
Pat Smith of Oklahoma State
Wrestling fans knew that as soon as freshman became eligible it was only a matter of time before NCAA Division I crowned their first four time champion. Pat Smith, younger brother Lee Roy and John, won his first NCAA title in 1990, following it up with titles in 1991 and 1992. Keep in mind he won these titles a s true freshman, true sophomore and true junior. Taking a redshirt in 1993, Smith came back as a redshirt senior to make history by becoming our first four timer in DI wrestling. Overall he went 121-5 for the Cowboys. Since that time Smith has always stayed involved in wrestling in various ways. Perhaps his greatest contribution post his own career is how involved he has been in the growth of wrestling in the state of Arkansas. 20 years ago Arkansas had no wrestling at all. Today we have collegaite programs at almost every level and high school wrestling is rather strong. We can thank Pat Smith in partial for that.
1990 Champion 190
Matt Ruppel of Lehigh
Finishing one match shy of All American status in his freshman and sophomore years of 1988 and 1989, Ruppel put it all together as a junior in 1990 going 38-0 to the NCAA title. Unfortunately as a senior in 1990, wrestling in his third match of the season Ruppel suffered a back injury that ended his wrestling career. Nevertheless he graduated with a perfect 4.0 GPA.
1990 Champion HWT
Kurt Angle of Clarion
A state champion out of Mt. Lebanon, Angle had an outstanding career at Clarion competing for the Golden Eagles. Winning the national title as a sophomore in 1990, he finished as the NCAA runner-up in 1991, reclaiming his throne in 1992. Post College won World Gold in 1995 and Olympic Gold in 1996. Post his collegiate and international career he got into professional wrestling where he had immense success in ECW, WWE, TNA and New Japan. He has over 26 credits in television and movies.
====
St John and Barnes previously mentioned
Pat Smith repeats in 91, 92 and 94 making him our first four time champion
Tom Brands repeats in 91 and 92 becoming a three time champion
Terry Brands and Angle do not repeat in 91, but come back to repeat in 92
Ruppel due to injury does not repeat
Griffin, Reynolds and Dolph all seniors