John Smith of Oklahoma State and Royce Alger of Iowa both won their second NCAA titles as Pittsburgh-Johnstown's Carlton Haselrig won title #2 of 3.


1988 Champion 118
Jack Cuvo of East Stroudsburg


The one thing Jack Cuvo never was on the mat was tired. Along with being the Warriors' best wrestler in school history, he was also a two time All American in cross country. Placing 5th at the 1987 NCAA championships as a sophomore, Cuvo won back to back NCAA titles in 1988 and 1989. He went 164-7 during his collegiate career. During the summer in between his sophomore and junior seasons, he won a Pan-American Gold medal.
1988 Champion 126
Jim Martin of Penn State
Putting together a career record of 155-9, Martin was 4th in 1986 & 2nd in 1987 before winning the NCAA title in 1988 as a junior. He placed 3rd as a senior. A 3.95 GPA throughout college, he later became a Orthopedic surgeon.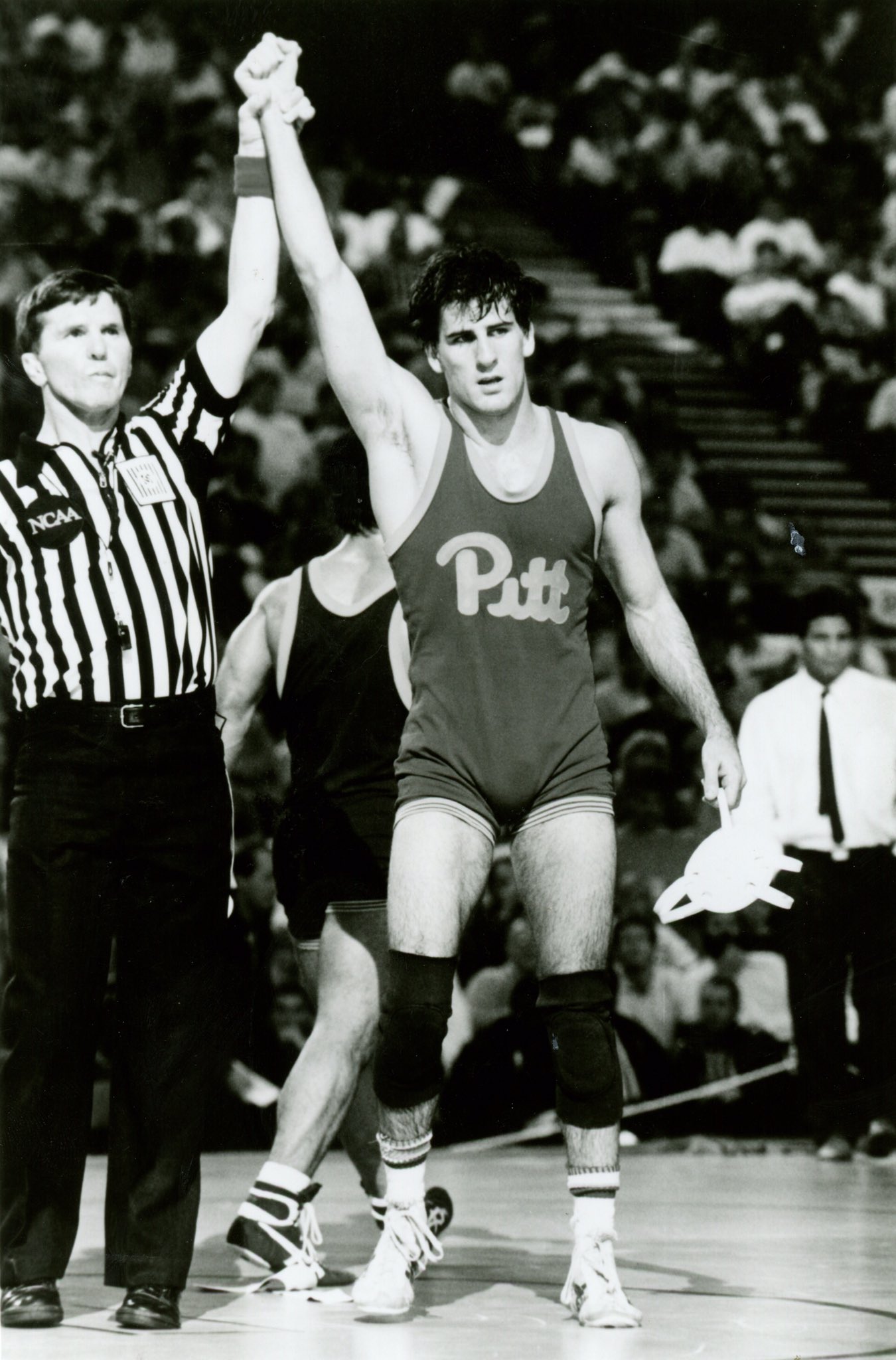 1988 Champion 142
Pat Santoro of Pittsburgh
Santoro put together a phenomenal career for the Panthers while competing for Pittsburgh. He won three EWL titles, placing 6th as a freshman in 1986, NCAA runner-up in 1987 as a sophomore, then winning back to back NCAA titles in 1988 and 1989. He went 167-13. He later coached at Lehigh.
1988 Champion 150
Scott Turner of North Carolina State
A graduate of Bethlehem Freedom High School in Pennsylvania, I believe that Scott Turner who placed 3rd at the 1986 NCAA championships may be the first Medical Redshirt Sixth year senior to win an NCAA title. You see 1987 was supposed to be Turner's senior year. However, he was injured and had to miss out on the season. Granted an extra year of eligibility, he went into the NCAA tournament with three losses. All three of those losses were to Iowa State's Tim Krieger the 1987 NCAA champion, who would also go on to win the 1989 NCAA championship. Turner finally avenged his losses being crowned champion.
1988 Champion 158
Rob Koll of Cornell
A three time ACC champion, Koll was a four time All American for the Tar Heels during his career at North Carolina. 8th as a freshman in 1985, he was then 3rd in both 1986 and 1987 before capping off his career as the national champion. He later had success on the international level winning Pan-American Gold in 1989, followed up with World Cup Gold medals in 1990, 1991, 1992 and 1933. He then coached at Cornell, leading the Big Red to EIWA titles as well as 6 top 5 finishes at the NCAA tournament including two runner-up finishes. He is now the coach at Stanford.
1988 Champion 167
Mike Van Arsdale of Iowa State
A two time state finalist, who won a state title as a junior for Waterloo West, Arsdale was 6th in the nation as a sophomore in 1985 and 3rd in the nation as a junior in 1986 before capping off his career as NCAA champion in 1988, after redshirting in 1987. He later became a star of the UFC, better known to fans as "Superman."
1988 Champion 190
Mark Coleman of Ohio State
A state champion for St Joseph Central Catholic, Coleman actually began his collegiate career at Miami of Ohio where he was 4th at the NCAA championships in 1986. Transferring to Ohio State, he won the NCAA title as a senior. He then went onto compete internationally where he won Pan-American Gold in 1990, 1991 and 1992. He was also a World Silver medalist in 1991. Post his wrestling career, he became a champion in UFC, known to fans as "The Hammer."
===
Smith, Alger and Haselrig Previously mentioned.
Cuvo and Santoro repeat
Martin, Turner, Koll, Van Arsdale and Coleman all seniors.